Four Chrome System 11 Leg Set Half Rib. 01-2263-2, 01-2263-3 C-10843-3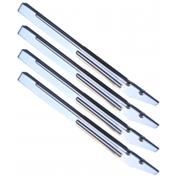 ORDER FEET AND LEG BOLTS SEPARATELY
Set of 4 Chrome Legs with half Rib


Used on the following games:
High Speed Grand Lizard Road Kings PIN-BOT Millionaire F-14 Tomcat Fire! Big Guns Space Station Cyclone Banzai run Ramp Warrior Swords of Fury Taxi Jokerz! Truck Stop* Earthshaker Atlantis* Black Knight 2000 Transporter the   escue* Mousin' Around* Police Force Elvira and the Party Monsters*

*Although these games came from the factory with short ribbed legs, some of them may not have been chrome plated, but painted gray.

Williams reference #01-2263-2, 01-2263-3, C-10843-3.