Four P-4052-8 28.5" Bally Charcoal Grey Leg Set No Rib Legs ONLY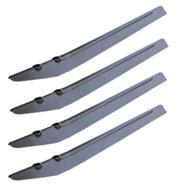 4 LEGS ONLY - Order feet and bolts separately
Charcoal grey Leg Set —Bally—Beautifully finished 28.5" legs NO rib. Metallic smooth grey finish.
We have one set that includes a leg that has a small bubble in the paint work. Other legs May have small imperfections. These are offered as seconds. 
Classic Bally gray un-ribbed leg used on most Bally games prior to 1988.
Leg are the standard length of 28-1/2".

Bally reference #P-4052-8